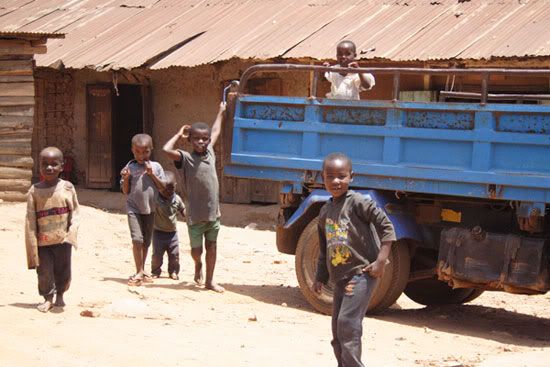 I've set foot on the land of Africa!!
(This entry took so long to compose and turned out to be quite long too - but shortening it defeats the purpose... so read on!)
I am writing from the Guest House in Kisiizi Hospital, Uganda – where I'll be staying for the next six weeks. It is incredible that there actually exists a fast wireless Internet connection around here (although reliant on good weather), so my TabletPC, which I had intended to bring for my Vancouver trip, becomes an unexpected luxury here! The whole Kisiizi Hospital compound is very Western in design, which is perhaps not too unexpected as it receives a major overseas support. The Guest House I am staying in is built from bricks and has comfortable bedrooms, a proper toilet and bathroom, as well as a lounge with a load of novels kindly left behind by previous visitors. Meanwhile, only less than half a mile from here, people are living in mud houses without electricity. The contrast is mind-boggling.
Am I glad I have arrived and am settling down! Let me recount my steps…
4 days before I arrived…
I left Kuala Lumpur on a short flight to reach Bangkok, my next transit point, at 11pm. Suvarnabhumi Airport (the new Bangkok International Airport) was quite a remarkable building! Being four stories high (not including a lower-ground floor) with an equally-impressive car park building connected to each of its platforms by driveways and concourses, it was like four layers of artificial land stacked upon one another, with cars, buses and a sea of people populating each level. There were
so
many people, moving swiftly in all directions, that it felt difficult to even find a footing and stop myself from being swept away by the waves. The fact that the entire colossal structure was glass-walled, together with the narrow balconies, made me constantly aware that I was in fact quite high up above real ground, with a gaping abyss – visible all the way down to the lower ground floor – looming all around. It seemed like a SimCity acropolis if you pause and think, or even like a prison complex from the future. Now that I am writing this from a remote, isolated part of Africa (relatively speaking), the absolutely busy shopping mall inside the airport was quite memorable as well. I had never been to Thailand, but this short stop-over made me think that it might be a good place to visit in the future; its cultural diversity interests me.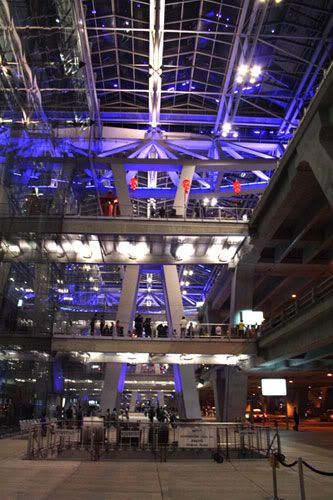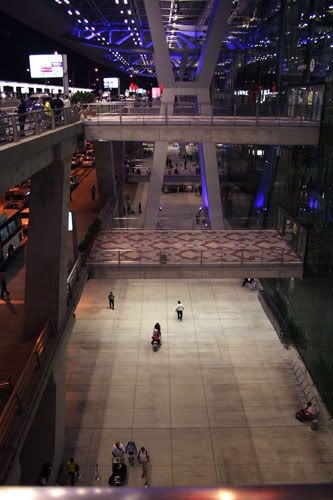 Suvarnabhumi Airport. The photos don't do justice to the magnificence at all.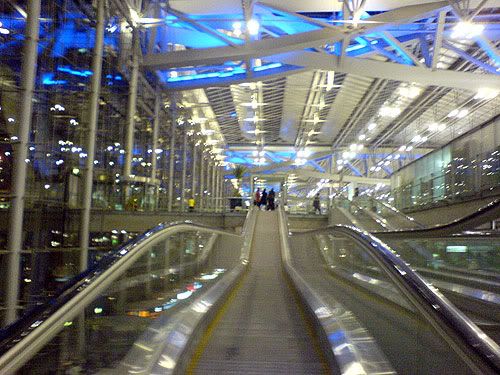 They've got these amazing travellators that span several metres mid-air. Quite scary too, especially the ones going up to the highest platform.
Walking to the Kenya Airways check-in counter was the first time I actually saw a big group of Africans – and I was thrilled like a little boy. I paid the airport tax (isn't credit card a life-saver when doing international travel) – which was quite interesting in itself, because instead of going to a counter or a self-service machine to pay, you would need to "catch" a roaming officer who would then give you a tear-out of the airport tax receipt, just like a ticketing person. And so I boarded the plane to Nairobi, exclaiming to myself, "I am on my way there!"
But what followed was, "Man, this is a
really
old plane!!", as I took notice while walking to my seat in the plane the flaking paint, worn-out metal edges, sections of the wall that were plastered back on (can you believe it), and the projection screen tilted to one side. The seatbelt was old-fashioned enough for me to need to spend half a minute to figure out how to use it. I had to share my enlightenment with the lady sitting beside me, who was as clueless as I was. I was really wondering if I would be alright, haha.
I certainly didn't expect the flight to turn out unprecedentedly smooth, thank God! Turbulence lasted no longer than 15 minutes in total; it was a really calm and peaceful flight all the way with the cabin lights switched off and everybody sleeping for a big part of the journey. My inflatable snooze pillow saved me from getting a stiff neck, which I often get, because I'm a giraffe. Metaphorically, of course.
The young Japanese lady sitting beside me in the plane spoke in an absolutely lovely mix of Japanese and British accents, I thought. We had a memorable conversation about how a Tokyo-bred girl like her ended up being a researcher working with the Japanese embassy in Kenya, et alii.
Eleven hours later, 6am in Kenya, before the sun rose on this part of the world, I reached Nairobi International airport. I was surprised at how I seemed to know the various parts of the airport even though I had never been there before. I suppose it must be because I've visited too many airports in the past few days.
Indeed, after almost 24 hours of flying in the air in total (how many chest X-rays worth of radiation is that equivalent to?) – not including transit durations adding up to a similar length – I was finally boarding my last flight to Entebbe, Uganda. I was nearing my destination! I had no idea where my biological clock was at, but I couldn't be more thrilled.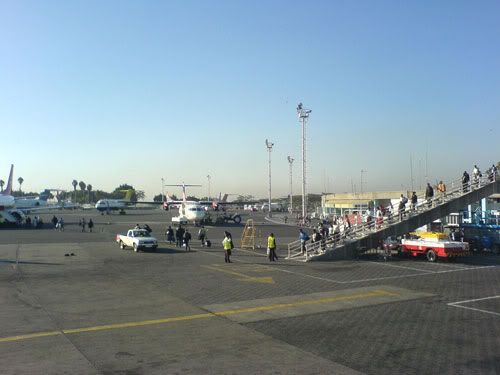 Outside of Nairobi International Airport, Kenya. There were some United Nations planes too but I didn't have the chance to snap a photo of them.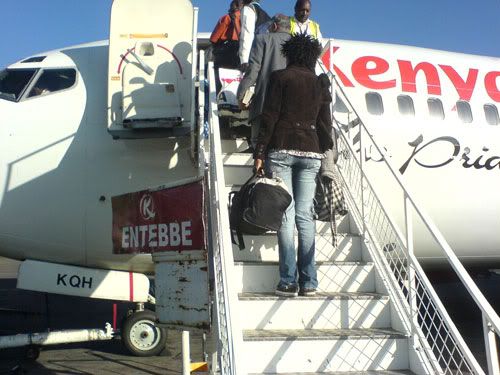 Flight to Entebbe! Took long enough to get here...
Reaching Entebbe, I took a private taxi to Kampala, the capital of Uganda (remember to call it "private taxi" or "special taxi" here, because "taxi" means a
matatu
to the locals, which is sort-of a hybrid between a minibus and a taxi-as-we-would-call-it) to Kampala. Finding a place to stay was a challenge because the first place I went to (Red Chilli Peppers Hideaway, a backpackers-type lodging operated by Westerners) was already full, and travelling to the second place (Namirembe Guest House, which was set up by a local Christian organization, as I understand) took long enough to even annoy the taxi driver, no thanks to the intense traffic jam that was somehow omnipresent in Kampala, and not just during peak hours!
But I was so glad to reach Namirembe Guest House, which about 15 minutes drive from Kampala central. The room was small and basic with a bed, mosquito net, table and wardrobe, but very comfortable. I really felt like I was living a Lonely Planet adventure. Namirembe Guest House served meals too which made me glad, because I dreaded to have to go back to Kampala central. The heat, the dust, and the traffic jam were just horrific. I only realized just how tired I was when I turned off the lights and laid myself down on the bed - I immediately plunged into sleep without even a flicker of resistance.
Taking the coach trip to Kisiizi the next morning was an adventure. First of all, the bus stop was unbelievable – it was like an open market in terms of chaos and the sheer amount of people, and the buses were packed so tightly it was more like a bus storage warehouse. Looking for the bus was a little nerve-wrecking as people swarmed around me to ask where I wanted to go, and all the time I was quite wary about the safety of my luggages. When I finally got into the right bus and found a place to sit, little was I expecting to have to wait for about one and a half hours for the bus to keep filling up until it was suffocating before it started moving! Packed like sardines, literally – I wish I could take a photo of how my legs and the legs of the person sitting opposite me (facing me) alternated in placement because it was just
so
packed.
Public
transport, indeed.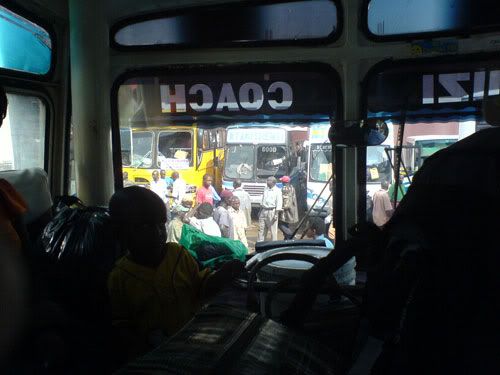 Looking out from inside the bus. Quickly snapped with my cellphone.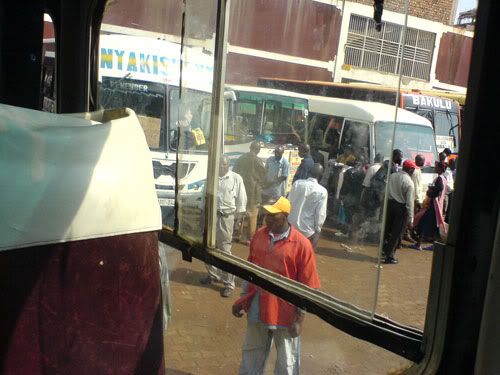 Notice how closely parked the buses were! It was hard to even get on to the bus!
Despite the slight discomfort, the journey was quite enjoyable, nonetheless. As we traveled all the way to the other corner of the country, we passed by various townships small and large. Seeing the different sceneries, squeezing together with the locals in a bumpy ride – this was what I called
traveling
!
But past 7 o'clock, the sun was setting and I had no idea how far still I was from Kisiizi. Passing by small "collections" of dusty buildings (I'm not even sure what to call them) which got darker and darker under the setting sun, the people outside would stare at me as though I was a helplessly lost lamb. The last stretch of the journey turned into a winding dirt road that seemed to never end, and I was getting a little worried, wondering if I would ever get to my destination!
I finally reached Kisiizi, thankfully – in a pitch black environment though. I was told the trip to Kisiizi usually takes about 7 hours – but mine took almost 9 and a half hours!! The Kisiizi Hospital main gates were thankfully easily noticeable since it was the only structure with fluorescent lighting in the area. I wandered up to the gates, and was confronted by the security guard there.
"Now, where are you from?" He asked. He was a tall and well-built man, but they still all looked quite similar to me, I regret to say.
"Um, New Zealand. I'm a medical student who has organized to do an elective here for six weeks."
My explanation wasn't exactly as smooth as that, but while I was fumbling to express myself, the security guard replied, "Okay, now I will lead you to the guest house."
He walked into his guard post and took out a rifle! "Now I will lead you to the guest house. Do you understand me?"
"Yes, I do!"
"My English is not very good. But I am speaking English." I think he was trying to joke.
I tried to follow beside him but I struggled with my luggage. I have been flying like a migrating albatross for the past few days, I had not eaten nor drank since 8:30am the morning, I was tired, I was confused, and I was really finding the stretch of walking (uphill on uneven ground, too!) incredibly difficult.
But I got to the Guest House – and met Peter and Sue, medical students from the US and UK respectively, in the lounge. The housekeeper prepared something for me to fill my numbed stomach as I opened the door to my room and threw my luggage down.
It has been a long trip to get to where I am now. Quite an adventure – not exactly within comfort zones at times, but hence the adventure I suppose – and it only starts from here!
----
Some photos I've taken while here:
It seems that I can no longer remember how to take good photos, after not touching a camera for so long. And I am very, very reluctant to take out my camera to snap photos - especially when the people around you don't even have the money to buy sandals, and when they stare at you so intently and so weirdly... Makes me too scared to take the extra second to frame my photos properly, or adjust the aperture and ISO settings. But I'll see if I improve as time goes on...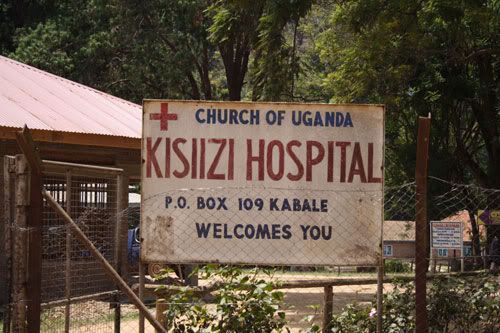 Where I'll be working for the next 6 weeks.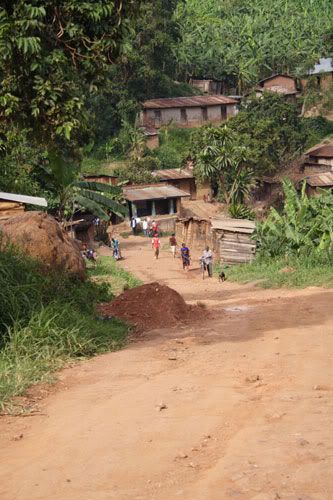 What you see when walking down towards Kisiizi Hospital and the Kisiizi township (whatever there is of it).
Everybody stares at you. It is quite disconcerting. I want to put my camera away immediately.