-- I have moved!!! --


blog.tablecolorworks.com


See you there! Make sure you say hi.


Update your bookmarks! Goodbye, Livejournal.
I am leaving this livejournal.

And in real life, I am at the stage of preparing, too,
to move away again from where I was, and away from where I am.
After all these years, I still must move.

But I will be transferring this blog somewhere else -
I'll update with the details here when I have things set up.

Take care, everyone; and thank you if you're still reading.
Medical speak is fun.
"Nil evidence of sinister pathology" sounds more professional than "there is no need to worry",
"Domiciliary acopia" sounds more intelligent than "not coping at home",
"Intravascularly replete" sounds more diagnostic than "not dehydrated",
"Circumlocutory historian" sounds better than "I wish he could just get straight to the point",
and "Diagnosis not otherwise specified" really means "I have not much idea what's going on".
It is also interesting how different terms come together to form a completely different language. When reading the pathology report for a patient with suspected bullous pemphigoid:

There is a superficial perivascular lymphocytic infiltrate and a marked interstitial infiltrate of eosinophils within the papillary dermis, associated with overlying epidermal focal spongiosis ... Included in the differential diagnosis is hypereosinophilia syndrome, drug reactions and possible arthropod assaults.

I seriously laughed out at "arthropod assaults". It does indeed sound cooler than "check if the patient's infested with lice".
But it's not that funny anymore after looking at some pictures of
arthropods
.
It is strange to see young guys and girls in the hospital - but I saw a couple of them in a row on a Monday night while working in the Emergency Department. They had all come in suffering from terrible cold/flu symptoms in this rainy winter and swine flu scare.

Those poor souls all looked absolutely miserable, I have to say, but they had nothing to warrant admission into hospital. So I said sorry and sent them home.

I remember thinking to myself as I walked out of the ED consult rooms - that I better not get sick after being in close contact with them!

And who would have guessed, the next morning during the post-acute ward round, I sensed an itchy throat creeping up. That very night and the following two days, my nose was running like a tap, my eyes were watering like a poor lemon being repeatedly squished, and I was madly sneezing in spasms every couple of minutes. I was practically bed-bound in a dark room, constantly feeling like tearing my sinuses out. I haven't had a cold/flu as bad as this for years!

Oh boy, how am I able to be a front-line doctor, if seeing a few infectious patients knocks me down completely for a few days and renders me weak like a kitten for a few days more?

I am at least glad I am recovering, by God's grace. Strangely I now feel like a special survivor.

It is wonderful, too, to be able to walk around comfortably without being sick.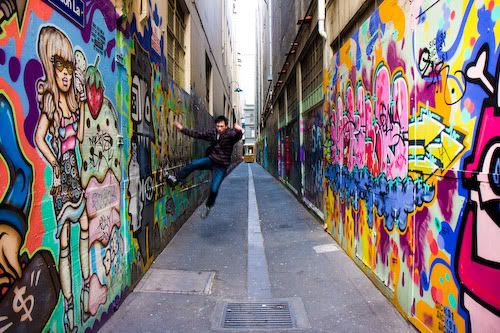 Just back from a trip to Adelaide and Melbourne. Had a great time!
But I am now seriously shopping-mall-phobic.
I find it hard to believe too that I actually have friends whom I haven't met for 10 years -- that's gotta mean something about the stages of life we're entering!
(
Some photos
Collapse
)