( For those of you new here, this entry is the me still trying to catch up with memories, even two years after my overseas medical electives in mid 2007. How time flies - especially to think that I have graduated from medical school and completed my intern year since.
The previous entries on my travels can be found under the
"Overseas Elective"
tag, starting with an
introduction
and a
4-day journey
to reach Africa.
The following few entries on the subject will be about my last days in the country of Uganda and then crossing the border into Kenya, before flying again a big stretch to North America. There isn't actually much left to put into words after this - although I still recall the sights, smells and sounds vividly and with much fondness.
Here is an obligatory warning for a heavy volume of text
- but cutting down defeats the purpose. There is
quite
to tell! Thank you for reading. )
----

The Story from Kisiizi to Jinjia
It was in the calm and chilly wee hours of the morning, well before the breaking of dawn, that Sue and I lugged our bags, half-asleep, from the Guest House to the front of the hospital gate.
The two long fluorescent lamps on the hospital gateposts flickered quietly in the still darkness, but there was surprisingly a fair amount of activity already starting to happen at this hour – two other locals were also waiting for the Nyakisheni coach, a motorcycle rider came to drop some parcels off, and Benon the hospital guard was greeting the people with his signature rifle gun in his right hand.
The Nyakisheni coach, huge and noisy, arrived at about half past five in the morning with much flare – headlights, engine rumbles, people shouting and all that. So Benon waved us goodbye as we stepped up into the coach; what jumped at us immediately however was the loud African samba music playing inside – it was quite out-of-place, and probably to keep the driver awake too, we surmised!
We were setting off for the nation's capital city, Kampala. Sue's sister, Sally, and Sally's partner, Owen, were coming to visit. We would be picking them up from the airport at Entebbe, then proceed to Jinja to raft the Grade 5 whitewater rapids of the Nile River – for which Sue, Sally and Owen were kind to have me tag along. That was the plan we had, brewed over the past week.
When the sun had risen up and high, we were elated to see Grace (yes, a guy's name here) and Sandra board the coach too, midway at Masaka. Grace and Sandra were Kisiizi Hospital staff who were at the time on holiday – they were literally God-sent, because Sue and I were just starting to worry about not knowing how to signal, in the midst of the overly packed and busy bus crowd, for us to be dropped off at Kampala Backpackers en route to the Kampala central bus station!
With much thanks to Grace and Sandra, we got dropped off without a problem, standing, just the two of us, on the side of the brown downhill road. The dust was still floating around us. The backpackers was at the outskirt of the city, on a hill slope from which we could see the bustling Kampala central, covered in a perpetual blanket of haze from the excessive use of coal generators. A major part of the heat and humidity of the city must be attributed to the resultant greenhouse effect.
About a hundred meters to the left of us was the big Kampala Backpackers sign on a yellow cement fence. Surrounded by a quaint garden with some monkeys trailing around, we signed in at the lodge, smugly granting ourselves the elevated privilege of skipping the word "
trainee
" when writing "
doctors
" under our occupation field!
* * * *
Giving Kampala central a walk, believe me, was nowhere near as leisurely as it sounds. But a rest and a Western lunch at the backpackers later, we braved ourselves and decided to go for it!
We caught one of those public bus-vans called matatu's down to Kampala's central bus station. Thankfully it wasn't ridiculously over-packed like what I saw in Kabale or Mbale - apparently the law of having a maximum of 14 people onboard was actually well observed in this capital city!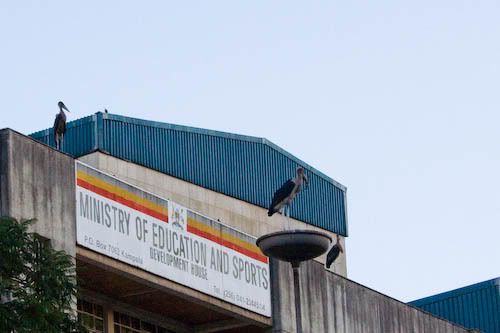 You can't mention Kampala without mentioning these unbelievable monstrous prehistoric Marobu storks!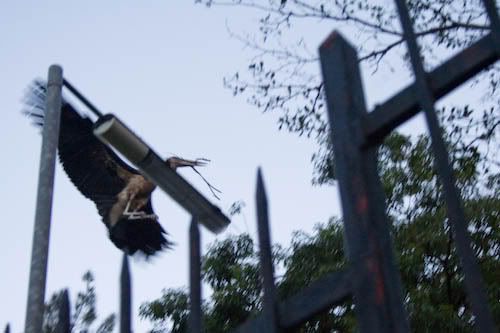 And they fly! Many find them ugly. I find them scary. ...What poor birds!!
It was fun riding on a matatu for the first time – but we weren't expecting to immediately embark on an unbelievably
perilous
walk to the city center afterwards!
Each step was like an unforgiving test of how sharp our senses and reflexes were: there were random potholes in the middle of walkways (real holes that you would need some serious help getting out of), ubiquitous crowds of people headed in all directions, motorcycles cutting in unpredictable curly paths on the pedestrian walkways, and barb fences hiding at unsuspecting places waiting for you to stick your hand into!! Crossing roads that had no rules was tricky as well – or perhaps there was a rule, which was that the size of your vehicle is directly proportional to your right of passage – but I trailed closely behind the locals, believing in safety in numbers.
There were lots of random hard-to-explain holes like this, in much tighter spaces...
Even bats succumb under the immense perils and dangers!
Then amongst the crowd of people, I felt someone pull on my bag from behind. I turned around, and indeed there was someone sneaking to open the zip of my backpack!
Seeing that I caught him red-handed, he gave me a silly laugh and uttered a nonsensical "Hello, my friend!"
What was droll was that he and his partner continued to follow Sue and I even after being found out (you'd think that after being caught, they would at least expect us to be keeping an eye on them) – we stopped to let them overtake us – but they comically did a roundabout turn to get behind us again! When we established eye contact with them, they laughed at themselves and disappeared shortly afterwards. =_=
Sue had a map of Kampala in her Uganda guidebook, but it wasn't as useful as we would hope for it to be, so we put it away after a short study. Never mind that some streets were unlabelled in the map, almost all of them didn't have any signs in real life anyway! I did see one road sign, I remember – but it was completely illegible because it had four coats stacked on it.
We split up. I needed to find the KLM flight and Akimbo coach offices to enquire about crossing the border to Kenya later in my trip (getting a little jittery, but all excited about it!) – which I was chuffed to be able to after semi-randomly traversing a maze of crooked streets, relying on whatever vague sense of direction I had. The KLM office was high up in an air-conditioned building with security downstairs that not only opened everyone's bags, but also had a metal scanner that you had to walk through, like in the airports. Turning around and looking outside, I could easily see why – just across the street, people were sitting in front of yellow run-down buildings, half selling small second-hand (or stolen) goods and half begging for coins.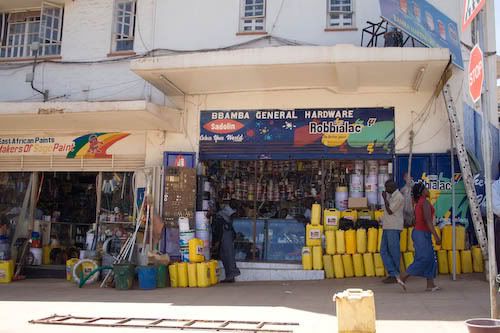 The Kampala views.
At the Garden City Mall, a two-storey shopping complex built not too long ago, I met up with Sue, nearing evening. From afar, its size and new white paint certainly made it stand out from the neighbouring small buildings, but the roads leading to it, being in the process of a renovation, were suffocatingly dusty (really)!
Consulting Sue's guidebook for dinner options, we decided to give a pomp up-class place a try, for a change (yeah, just because we could) – Fang Fang Restaurant, on top of a business building of some international firm.
I must say, wow. At the flamboyantly decorated entrance, I was quite surprised to be greeted by two young
Chinese
(I presumed) waitresses. Where did they come from – it was rare to see Asians here, let alone younger ones – and what were they doing here in Kampala?? Did they not need to go to college? How long have they been working here for? … Or could it be that they were poor girls abducted by the evil uncle and smuggled into Africa as slaves!!? Surely beneath those little smiles their hearts were breaking, missing home so dearly? I was very bewildered, but too chicken to ask.
We were seated outside, beside a softly glowing round lamp on the handrail, overlooking the streets and traffic below, now dark slate blue under the setting sun and new crescent moon. We were served by our own designated waitress – a local Ugandan she was, and I should mention it was just a little disturbing seeing an African in a traditional Chinese dress.
The lights, the view, and the ambiance made the entire experience
surreal
. I offered to do the ordering of a proper Chinese meal for Sue and I. The meal was well cherished, even more so after the hard and long day! A hot towel each to start and a complimentary plate of fruits to finish, it was a good dinner at about USh 50k altogether – not bad at all for the experience as a VIP!
We caught a private hire (the equivalent of a taxi in Western countries) back to the backpackers, seeing that it was already nighttime. While most of the people were still chatting away in the backpackers lounge with loud music playing, we had an early sleep first in the shared dorm. It would be another long day tomorrow.
And to think that only yesterday we were still at the tiny Kisiizi village, southwestern end of the country.
* * * *
The new taxi park in Kampala central was an incredible sight to behold!
We got there early next morning – a massive plain field with shockingly innumerable
swarms
of matatu's, all parked a hair's breadth between each other.
Now, I wondered as I tiptoed to catch a glimpse of the entire park, where should we start searching for the
one
matatu leaving for the airport in Entebbe?
Again literally heaven-sent, one of the locals kindly offered to guide us (for free, too!). While it was amazing that he knew where the spot was amongst the jam-packed crowd of vehicles and people, what I found even more amazing was how the matatu we got in was able to later exit the park without much beeping and squeezing around. They obviously had some sort of system that worked!
And so we left, in a fully-seated wobbly matatu, for Entebbe.
It brought to my mind a tragic story. Only about a week before I got to Kisiizi, there was a fatal accident involving an overseas elective medical student, just like me, on her way between Kampala and Entebbe. She died on the spot. The Kisiizi community was mourning when I arrived there; I am sure many people dear to her were, too, over the world. Sad things unfortunately happen in this world that has gone out of order.
I was asked to sit in the front and in the middle – the driver on my right, another passenger on my left. If we were to get into an accident, I whispered to myself as I climbed onto the seat, then I was sitting right in the most dangerous position!!
The not-exactly-enviable view from the middle of the front seat.
And believe it or not, halfway to Entebbe on the national highway, we really
did
get into an accident! Just behind the windscreen and stuck pitifully in the middle, I bit my teeth in incredulity, preparing for the crash as I watched in suspended animation our vehicle smashing into the front truck. But thank God (truly) that it was a relatively slow collision – there wasn't much damage other than a dent on the engine front and the left side-mirror flying off. I got off the vehicle and let out a quiet relief, glad to be unscathed.
The truck, from what we could later figure out as the matatu and truck drivers argued over matters, had suddenly pulled its break because of a motorcycle swaying into the main road. We also still had to pay Ush 1000 each for the halfway trip!
Standing like lost lamb at the side of the national highway, Sue and I started scratching our heads as we put our thumbs up to hitchhike for another ride. Vehicles whooshed past, and the wind blew.
A police car stopped, noticing the mess. Not wanting to get involved with matters, we tried not to pay too much attention to them, but soon we were called by the policemen too. They asked where we were headed for. When we said the airport, they told us they were going there as well.
And that, in an amazing chain of events, was how we got to ride in a police car in Africa!!
Entebbe International airport was still looking very familiar from when I first arrived a few weeks back. We bought ourselves soda drinks and waited for Sally and Owen's much delayed flight. We had arranged for a driver from the Nile River Explorers to pick us up there (a service they offered), so when Sally and Owen arrived, the four of us took of from Entebbe to Jinja the same afternoon – on a mission to stay calm in the 3 hours drive through fumes, dirt and heat!
Sitting restlessly in the steaming car then, and even now, in comfort a quarter of the planet's circumference away, I recall the many funny things that plainly were beyond our control. But God was faithful.
This is our story from Kampala to Jinja. It was whitewater rafting in the roaring Nile River rapids next!